Box Printing
Friday, March 12, 2021
Box printing process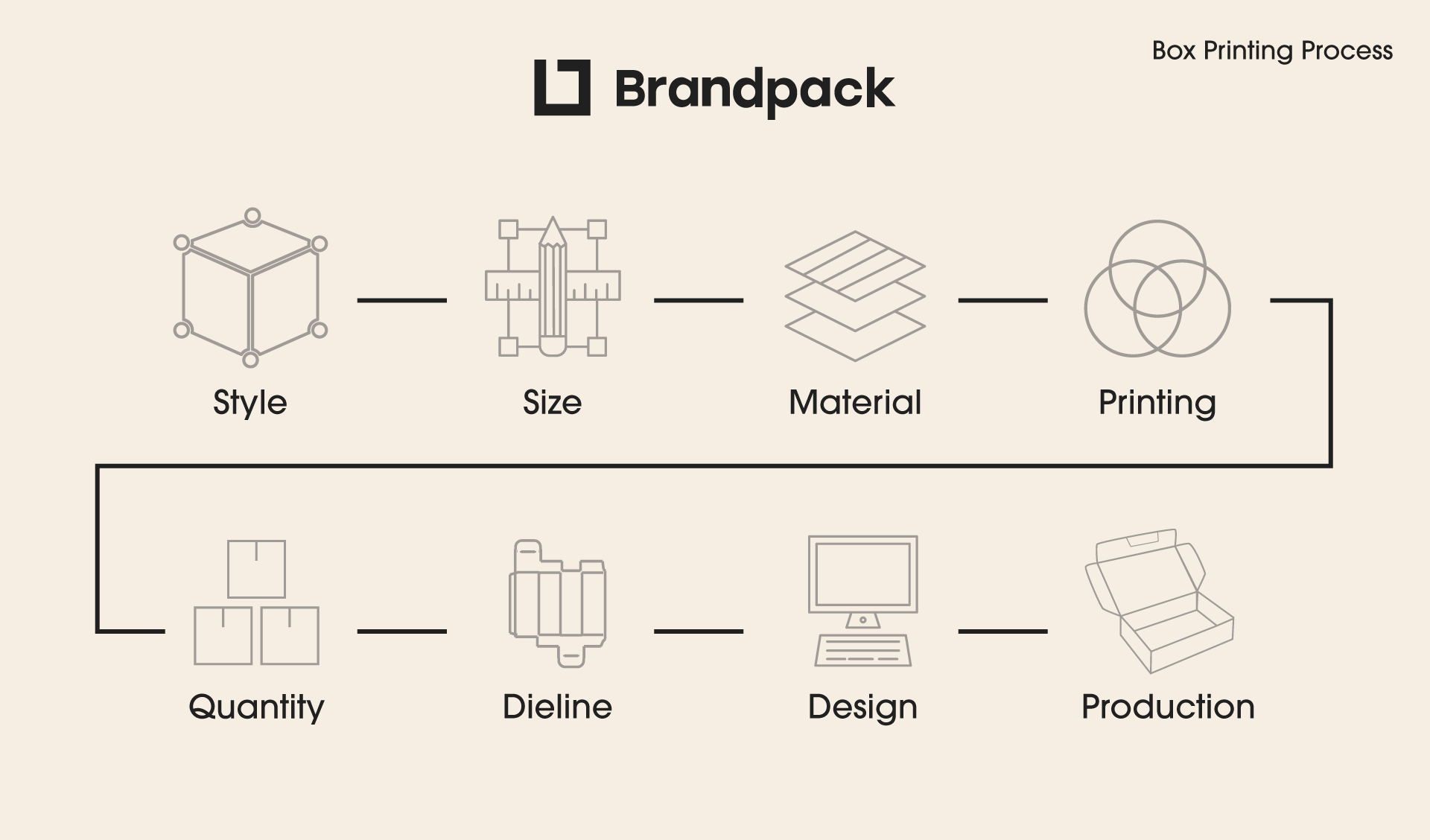 Brandpack offers box printing services to suit a wide range of packaging requirements.
From material selection to production and dispatch, our box printing processes provide an easy way to customise your shipping boxes or bespoke product packaging.
Box Style


The first step in the process is to decide the size and style of the box. This will largely depend on the size of the product the box is holding and on the box use or function (shipping or retail product packaging and display).
Shipping boxes are typically styled in hinge, cube or rolled while retail product and display boxes come in many more styles including tuck end, hinge, lid and bottom, pull out, tray and sleeve, hanging boxes with euro slot, handle and carry boxes, display and dispensing boxes. We also offer custom inserts and cutout windows.
Box Size



Sizes are displayed as Width x Depth x Height in millimeters. Retail product boxes can be created in any custom size to the mm, with a minimum width, depth and height of 20mm. Our shipping e flute boxes can be customised to any size with a minimum of 100x100x40mm and a maximum of 445x300x54mm. For larger shipping boxes we offer the FEFCO box style 427. This is a very popular FEFCO hinge box style and comes in a wide range of sizes to suit your shipping requirements. 
Box Material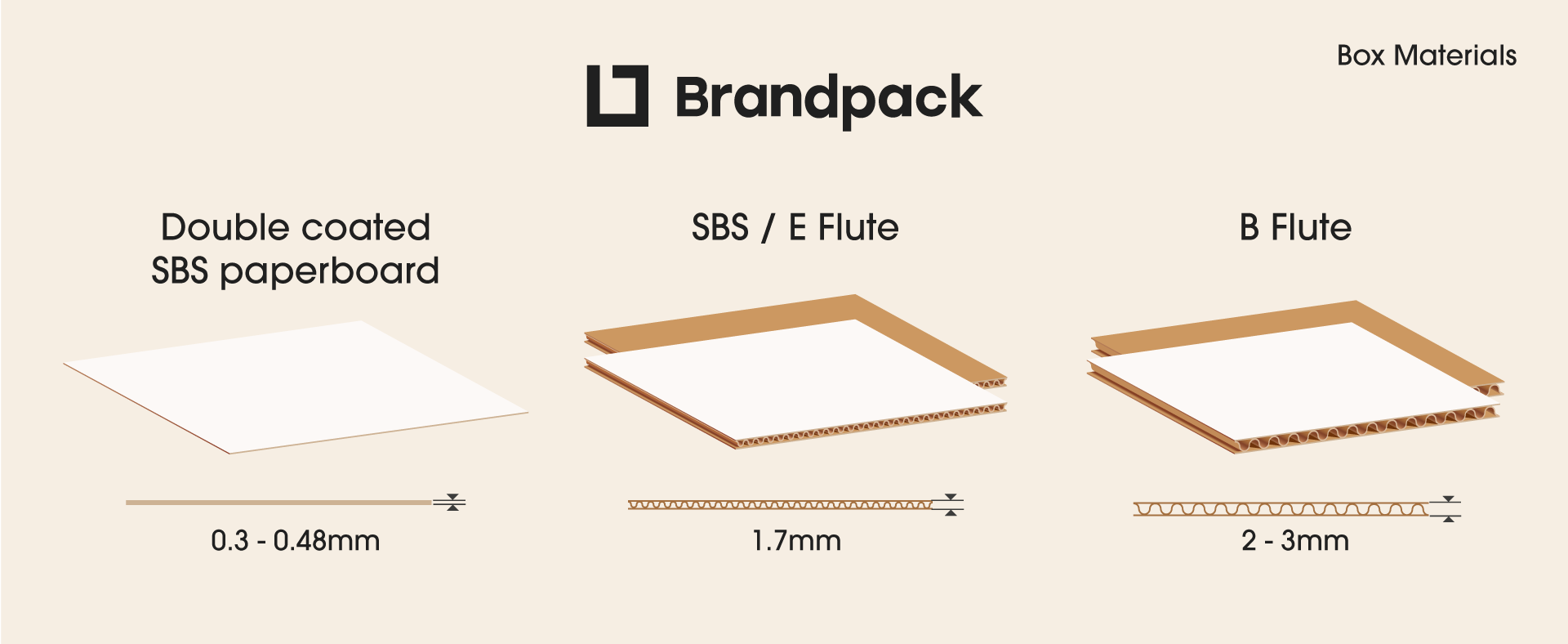 We offer double coated paperboard (300, 350 and 400gsm) for product packaging and retail applications or corrugated e flute 380 and b flute 450-480 for e-commerce, shipping and mailing boxes.
Selecting the correct material will depend on what the box is being used for. If the box is being used to ship e-commerce orders or other mailing boxes alike, the box material needs to be heavy duty in order to protect the products from damage and spoilage which can occur during transport and handling, or storage in bad and damp conditions. Our shipping boxes are printed on durable corrugated cardboard flute, available in Kraft brown/grey or white. White is usually selected if the boxes are going to be printed in full colour, while brown/grey are selected for single colour black print.
If the boxes are being used for retail shelf and product packaging the choice of material will be based on the style and fold type of the box required together with the weight and size of the product. Smaller items that are lighter in weight can be printed on a 300-350gsm paperboard while larger items that are heavier in weight are printed on 400gsm.
Printing and Special Finishes



Printing
Our retail boxes are offset printed in full colour CMYK. CMYK is the colour space used in printing and stands for Cyan, Magenta, Yellow and Key (Black). Using a combination of these 4 inks in the CMYK colour space enables vibrant full colour printing of your boxes.
Our shipping and mailing boxes can be printed in black only or in full colour CMYK. Single colour black print is cost effective and very popular for e-commerce purposes.
Special finishes
We offer special finishes on our retail boxes including spot raised gold, silver and varnish.
Special finishes can be used to differentiate and set your brand apart from the competitors, they can add value to your product as the consumer considers the product to be of higher quality and can be used to reflect your brand identity and product.
Quantity
Order quantity is an important consideration in deciding on your product packaging boxes. The more boxes you order (higher order quantity), the lower the price per box. This is due to fixed prepress, production and shipping costs. Although we have no minimum order quantity on our retail boxes, you will find the best price breaks per box at 100-500+ boxes. For shipping boxes the best price breaks per box tend to be around 500-1000+ boxes depending on the size of the box.
If you are uncertain of the quantities required, we can help finding the best prices per box taking your budget and requirements into consideration.
Dieline creation



There is no extra charge for our dieline creation services.
Once the style, size, material, print and special finishes have been chosen your order can move into prepress. We create the dieline for your boxes in the selected style and size. The box dieline is the flat shape of the box and includes specially created spot colour dielines that our prepress software and production equipment read. There are different dieline colours for each function including shaping the box, folding, diecutting or laser cutting and for design safety margins.
Box design
Apart from the functional requirements such as transport, protection, storage, nutritional and informational labeling, your product packaging should reflect your brand identity and unique selling point. Customised packaging boxes form an important part of your product offering and play a vital role in the consumer decision making process. A well designed box provides brand recognition, quality assurance and consumer confidence.
Our box printing services include 1 hour box design or typesetting. If your box design is a straight forward typeset and design requirement, with existing logo and brand graphics, there will be no additional design charge.
3D mockup rendering service
Once the dieline and box design has been approved, we render your box in 3D for artwork proofing, before moving the job forward to production.
This service is only available on the retail paperboard boxes.
Production & Dispatch
Once the job has moved through the prepress stages and the artwork and mockups or samples have been approved the job enters production. Our production lead time on retail boxes is approximately 15 working days.
The boxes are shipped flat for transportation with easy to follow folding instructions supplied.